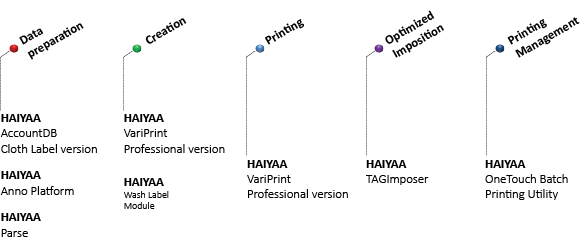 Due to the fast growth of cloth label with different content description, and the print volume of every SKU is becoming shorter and shorter, the cloth label production is becoming another important application of digital printing. Different from VDP application, cloth label printing has its own technical requirement:
1. 99% of cloth label printing belongs to overprint on the off-set print. and 90% is B/W variable print.
2. The database integration is a very important procedure in the whole workflow. Most of original data sent by the consignee is not standard. The operator should process it in advance. Since every customer's data format is different, so it is necessary to have powerful data integration utility.
3. Different kinds of cloth label will have different material combination, it is displayed in several different language sometimes for multi-national brand, how to handle the combination display in a good look is a state of art technology. VariPrint provides several solution to this issue. Wash label is processed in the same way.
4. How is printing at high efficiency is another technical concern. Beside the printing speed, VariPrint give the solution for the operator to easily cut to stacks in order after printing, Furthermore Haiyaa develop an optimized imposition solution - TAGImposer to combine different SKU into one or several page according to each quantity in an economical way to save paper, labor and time